Wooden Skiff Model, With Miniature Green Johnson Outboard, For Crabbing &fishing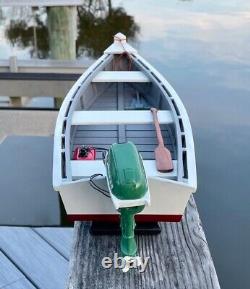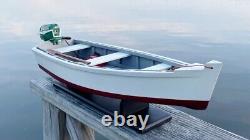 Just like the crabbing/fishing/utility skiff you owned as a kid, our wooden skiff, with cross-planked bottom and open gunwales, is fully assembled, ready for display. Features three seats, anchor with line, wooden paddle and miniature 1955 green Johnson 10 HP Sea Horse outboard, with matching 6-gallon red Mile-Master gas tank with twin gas lines. Motor and tank are cast polyresin, hand-painted, very realistic, with period-correct decals. Motor (non-functional) mounts on notch in transom, completing the display.
Boat is painted white, with gray interior and red bottom paint. Wooden display stand is included. Skiff is 17.50" long X 6.25" wide X 5.25 high (when on stand).
Boat is removable from stand.