Vintage Ito Miss Sakura Wooden Toy Cabin Cruiser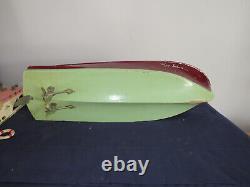 Vintage ITO Model K 1940's MISS SAKURA wooden toy model cabin Cruiser. It is dusty and dirty with finish loss in places.
It may have had 2 motors at one time but it only has one now. I have no idea if the motor will work when hooked up with batteries. It looks mostly complete and would make a good project for someone that has the ability and time. I don't have either one. It is about 22 long with 2 propellers.