USS Constitution Old Ironsides Wooden Tall Ship Model 38 Sailboat Built Boat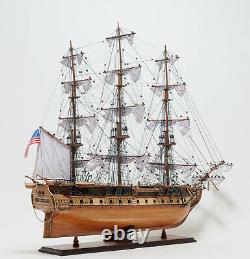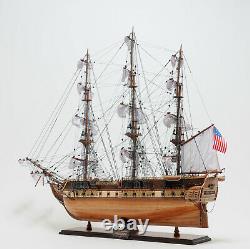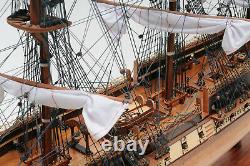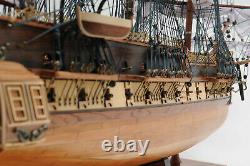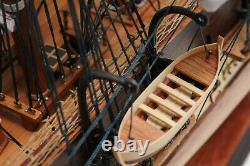 Constitution, a three-mast frigate, is the worlds oldest commissioned warship. Built primarily with dense southern live oak, its hull was 21 inches thick in an era when 18 inches was common. Paul Revere forged the copper spikes and bolts that held the planks in place. It was during the ferocious battle with the Guerriere that British seamen, astonished at how their cannonballs were bouncing off the Constitutions hull, cried out, Sir, Her sides are made from Iron! " Hence, the nickname, "Old Ironsides.
The Constitution today is a national landmark and is currently docked in Boston. Master craftsmen using historical photographs, drawings or original plans meticulously handcraft these highly detailed wood models from scratch.
To recapture the beauty of the ships into the model s, they are built to scale with the most exotic, high-grade wood available such as: western red cedar, rosewood, ebony and mahogany. They are 100% hand-built individually using plank-on-frame construction method and are similar to the building of actual ships. If you look closer, you can see an evenly smooth surface of wood on the hull. Wood pieces of different shades and colors are carefully selected and used to create an impressive look. It was done more beautifully then most pieces of fine furniture. T he highest quality brass fittings are used for ornaments, railings, cannons and lanterns from bow to stern. These materials are transformed into art pieces by the skillful hand of the master craftsmen; e ach model requires hundreds of hours to finish and must go through a demanding quality control process before leaving the workshop. This is Museum-quality, fully-assembled edition of the famous USS Constitution "Old Ironsides".
It is part of an exclusive edition where the hull is laser cut with a unique serial number , which allows us to identify production date, material used and all other production information of a model. The model is 100% hand built from scratch using plank on frame construction method.
Our master craftsmen have spent more than 100 hours to finish it. One bold feature that makes this model standout is the art of wood use. Rosewood, mahogany, teak and other exotic woods are carefully selected to accent each part of the model. This replicas magnificent details include metal anchors and cannons, authentic crows nest, advanced intricate rigging, rolled sails, wood inlay hull, inlay deck, an ornate stern and many more.
Comes on a solid wood base, with metal nameplate. Handmade from high-quality materials; fine lumbers are seasoned and kiln dried to the appropriate humidity level before they are used. Exacting replica; extensive research through original plans and pictures are completed prior to build. Exclusive Edition with a unique serial number. Plank-on-frame construction method; similar to the building of actual ships.
The sails are all hand stitched with fine details, seasoned to make the sails look and feel like real. Chrome and brass fittings and ornaments constitute the excellence of our models. More on the "Exclusive Edition"...
Each model is uniquely identified by a serial number, which is laser cut to the hull of each model. We put quality number 1 priority, thus we thoroughly supervise all steps from the beginning to the end of making each model. Is packaged securely in a sturdy wood crate, resting on custom-fit rigid polystyrene foam, and securely banded to the wood crate (see the last picture). The crate is then put in a nice carton box with cushion for maximum protection.
Whether you're an avid sailing enthusiast or collector, this. Model is sure to please a discriminating collector!
This is a touch of nautical history; sailing nostalgia at its best! We hope you take a few minutes to shop our other Magnificent Treasures! To your Favorite Sellers list! Thanks for Shopping with Us! POLICIES / GUIDELINES / FAQ. Unfortunately, current sale prices cannot be applied to previously placed orders. Similarly, each sale has an expiration date, after which the sale prices are no longer valid.
Unfortunately, sometimes items may arrive damaged. All claims for damaged items must be substantiated with photographs of the damage.
Once they assess the damages, two options are available. We know you will love this item and we don't really expect to get it back, but we will stand behind our guarantee if we do. Return requests must be made before January 5th of the following year; no exceptions.
The item "USS Constitution Old Ironsides Wooden Tall Ship Model 38 Sailboat Built Boat" is in sale since Saturday, January 9, 2021. This item is in the category "Collectibles\Transportation\Boats & Ships\Sail-Powered".
The seller is "magnificenttreasures" and is located in City of Industry, California. This item can be shipped to United States.
Line: US Navy
Conflict: Battle with HMS Guerriere, 1812
Size: L: 38 W: 13 H: 32 Inches
Materials: Wood, Metal, Linen and Twine
Edition: Exclusive, with Unique Serial Number
Brand: OMH
MPN: T012
UPC: 616983879030
Type: Tall Ship Wood Model, Fully Assembled