24-Inch Wood MODEL SAILBOAT Endeavour Yacht Boat Wood Replica Nautical Decor New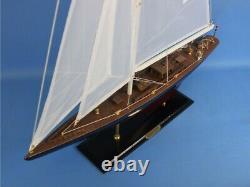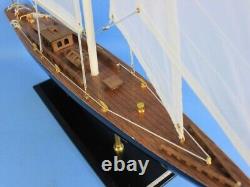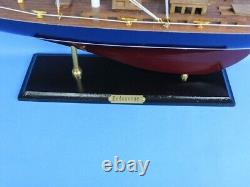 24-Inch Wood MODEL SAILBOAT Endeavour Yacht Boat Wood Replica Nautical Decor New. Overall Dims: 24" L x 4" W x 35 H. Accurate model sailboat replica of the Endeavour yacht. Researched from sources such as photos, historical plans and original artwork. Wooden hull and deck parts built from rare, high-quality woods.
Wooden base with metal supports and a metal nameplate clearly showing the name Endeavour. High quality craftsmanship and details, including. Accurate scale of all deck and hull components. Lifeboat tied-down on the deck.
Three masterfully stitched sails with extensive rigging. NOTE MINOR ASSEMBLY REQUIRED: Pre-assembled, simply attach the sails and display. Sails and rigging already complete. Insert mast in designated hole and clip brass rigging hooks as shown in illustrations. Ready to display in less than five minutes. A quality item at a great price.
Shop with confidence and trust. 24-Inch Wood MODEL SAILBOAT Endeavour! Endeavour was hailed as the most beautiful J-Class yacht ever built. She was the best and most impressive sailboat that Britain ever built to race in America's Cup series.
Endeavour had speed as well as beauty. Built in 1933 by T. Sopwith, the undisputed leader of the British aircraft industry, Endeavour possessed many new and innovative devices, including below-deck winches, new sail designs, and an improved spinnaker. Even with an amateur crew, she came closer to winning the Cup than any other challenger up to that time. Endeavour was a faster yacht than her contender Rainbow. She beat Rainbow the first two races.
However, the American team was a much finer crew and defeated Endeavour all next three races by out-thinking her captain. Saved by Elizabeth Meyer of New Port, RI, today she is one of the most breathtaking sights on the water.
To take helm of such a yacht is to experience pure power, grace, and speed. Your satisfaction is our #1 priority! 24-Inch Wood MODEL SAILBOAT Endeavour. But we will make sure you receive it in perfect condition(in case of damage on arrival let us know within 2 days for a replacement).