Billing Boats Cux 87 Krabbenkutter 474 Ship Model Kit 133 Scale New Open Box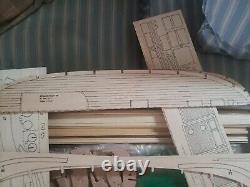 Large 22" x 17" x 6. The Cux 87 is a typical German trawler from the Deutsche Krabbenkutter Werft. This type of boat is often seen in the small harbours along the North German coast. Built in 1952 in Cuxhafen, Germany.
Tonnage 49.97 gross register tonnage. Lenght of mast 9.9m. Motor 2-cylinder diesel 200 HP. Fishing tackle - 2 crab nets. Fishing area around the Danish island Rm and the Western coast of Germany!
The kit includes a single unit boat made of wood with a 1:33 scale. It is a vintage model of a crab boat with a nautical theme. The set does not come customized and was manufactured in Denmark. All the necessary components to assemble the model are included in the open box. Two pieces of balsa have been removed from the main sheets.
Everything else is as found when the box was opened new.